New camera's and even smartphones often have an option or app to make beautiful panorama photo's. Remove the frame around a photo and let others relive the view you had!


So Facebook added a feature to show panorama's with their new panoramaviewer. It works on PC's by draging your mouse over the photo, while mobile users can actually look around with their smartphone.
Facebook panorama example
Click the image to see it at Facebook.
Easy steps: how to do it yourself
Create a panorama photo. This depends on the equipment you have. Suggestions: DSLR with fisheye lens, Smartphone with panorama app or use a 360 camera (not many out there yet, but it's coming!)
Drag your photo to Photoshop or any other edit tool. Your photo needs to have an aspect ratio of 1:2. So for example 5 high, 10 wide. The maximum for Facebook is 6000 pixels wide and 3000 pixels high. That's what I use.
The horizon should be in the middle of the photo. Also, the absolute center of the photo is where your Facebook viewer wil start.
Export the image to JPG, try to get it around 4-6mb max.
Edit the META data of your image. You can do that within Windows (Right click on the image, go to details) or use the online tool thexifer.net.
Change Make to "RICOH" and Model to "RICOH THETA S".
Save/download the image
Go to your Facebook timeline, and upload it like you'd do any other photo. Don't post it in a comment, but use a new post.
Here's the above panorama, but flat. The red square indicates the absolute center ánd also the startingpoint where Facebook will position the viewer.
The lower part was a bit messy, so the black part will become a small disc. The grey line just becomes a dot. It's good to have a center-point for oriëntation.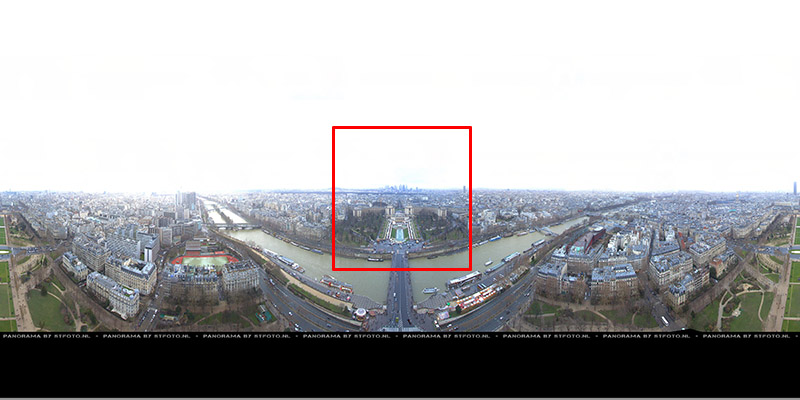 CHEATSHEET – Download the template
Here's a PSD-template for Facebook panorama photo's! Just download it, drag your panorama in and make it fit. The metadata is included, so no further editing needed! You can leave the black area on the bottom and edit the text or remove it if your panorama has the ground included as well.

stfoto-facebook-panorama-template.psd (3mb)
Enjoy!